Legal 500 UK
The Legal 500 UK ranked Shook, Hardy & Bacon International LLP among the top law firms in London in Product Liability – Defense. (2022)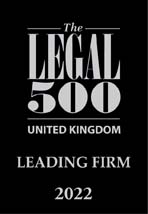 ---
Chambers USA
Chambers and Partners selected Shook's privacy and data security, and e-discovery capabilities in Chambers USA both for national rankings for the first time, which reinforces Shook as one of the leading privacy and data security firms in the country. (2021)
---
Association of Corporate Counsel Value Champion
The Association of Corporate Counsel (ACC) recognized Shook for the fifth time in nine years for exemplary collaboration with a client. ACC named Compass Group and Shook as the 2021 "Value Champions." Shook also won the award for its work with client TC Energy in 2020, The Heico Companies in 2015, for 13 defendants in multidistrict fuel litigation in 2013, and for its work with client Tyco International in 2012. (2021)
---
U.S. News & World Report - Best Lawyers
Shook earned four National Tier 1 rankings in the U.S. News-Best Lawyers in America® 2021 "Best Law Firms." Overall, Shook is nationally ranked in 14 practice areas, and a dozen Shook offices were regionally ranked in 45 practice areas. Kansas City earned the Bet-the-Company Litigation Tier 1 honor for the second consecutive year. (2021)
---
BTI Consulting Group A-Team
Shook was included in the "Top 30" law firms serving the world's largest clients in the BTI Client Service A-Team 2021 Survey. (2021)
---
Chambers UK
Shook London has again been ranked Band 3 for Product Liability defense, and two partners received individual rankings as "Notable Practitioners." (2020)
---
BTI Consulting - Litigation Outlook 2020
BTI named Shook a "Product Liability Powerhouse," one of only two firms in the U.S. to receive this ranking. Shook also was named a "Standout" in two areas: Commercial Litigation and Complex Commercial Litigation. The firm also was named to BTI's "Honor Roll" in Class Action Litigation. Our attorneys also have been recognized as "Client Service All-Stars." (2020)
---
Managing Intellectual Property "IP Stars"
Managing Intellectual Property recognized five Shook partners as "IP Stars" in areas including patent litigation, patent prosecution, patent office proceedings and patent strategy and counseling. (2021)
---
Super Lawyers
Thomson Reuters recognizes both established attorneys and "Rising Stars" each year in various state and regional editions of Super Lawyers. (2021)
---
Law360 Diversity Snapshot Diversity Champion
Law360 released its 2020 Diversity Snapshot which examines the current state of minority representation in the legal industry, which is often underrepresented. Shook ranked in the Top 30 for the number of minority attorneys and seventh in minority partner promotions among law firms with 251-600 lawyers. The firm scored 16th overall for its minority equity partners in that same grouping. (2020)
---
National Law Journal "500 Women In Law" Scorecard - Top 25 Firm
In the article "The NLJ 500: Where Are Women Winning?" The National Law Journal reported that Shook ranked 23rd on the publication's scorecard for women partners, up from 34th in 2019, an 11 point positive change within one year that placed Shook in the Top 25 Law Firms of the Women's Scorecard 2020. In the U.S. Female Minority Partners Among the Top 25, Shook had a total of 12 female minority partners, with 5.20% of the firm's U.S. partners being minority women. (2020)
---
2020 Diversity & Inclusion Honoree (Missouri Lawyers Media)
Missouri Lawyers Media recognized Shook and Shook Associate Mary Olson in its 2020 Diversity & Inclusion Awards for their work supporting and advancing diversity and inclusion initiatives. Shook is the only law firm being honored on its own for its overall firm diversity and inclusion efforts. (2020)
---
IAM Patent 1000 – The World's Leading Patent Professionals
Shook was named to the IAM Patent 1000 for individual and firm excellence in patent prosecution and transactions; two partners also received individual rankings on the list. (2021)
---
WILEF Gold Standard Certification
For the 11th consecutive year, The Women in Law Empowerment Forum (WILEF) awarded Shook Gold Standard Certification in recognition of the number of women equity partners, the number of women in firm leadership positions, and the number of women among the ranks of the most highly compensated partners. (2021)
---
JD Supra Readers Choice Awards
For the third consecutive year, Shook was named the "Top Firm for Food & Beverage" for its Food and Beverage Litigation Update, a weekly newsletter covering industry trends, regulatory and legislative news and litigation. In addition, three Shook partners tied as the top authors in the Food and Beverage category, their legal writing ranked as the most read and responded to on the topic. (2020)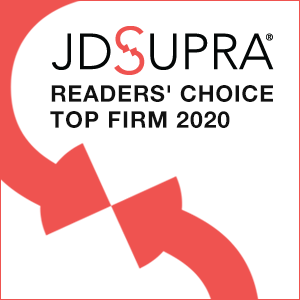 ---
Human Rights Campaign
For the 13th consecutive year, Shook earned a 100 percent score on the Corporate Equality Index, the highest rating for LGBTQ equality in the workplace. (2021).


---
Vault "Best Law Firms"
Vault has again recognized Shook as one of the top 25 law firms in the nation for Diversity + Inclusion; the rankings are based on surveys from past summer associates. (2020)
---
Leadership Council on Legal Diversity
The Leadership Council on Legal Diversity honored Shook with its 2019 Compass Award, given to law firms that demonstrate commitment to building diverse organizations. (2019)
---
LMG Life Sciences
LMG rated Shook's Product Liability Practice "highly recommended," describing the firm as "without a doubt, the best team of life sciences product liability attorneys in the United States for the last several years." Four partners earned individual recognition for Non-IP Litigation and Enforcement. (2019)
---
Who's Who Legal - 2020 Product Liability Defense Firm of the Year
For more than 15 years, Who's Who Legal - The International Who's Who of Business has named Shook, Hardy & Bacon its Product Liability Defense Firm of the Year. Individual attorneys also were recognized for their preeminence in the field, along with partners who were honored for excellence in Life Sciences, Environment, Labor & Employment and E-Discovery Litigation categories. (2020)
---
Working Mother Best Law Firms For Women
For the 11th consecutive year Seramount, the parent company of Working Mother magazine, named Shook to its list of the 50 Best Law Firms for Women. The magazine has also recognized Shook's Junior Women's Management Council's "Diversity Sponsor Award," created to encourage the mentorship of women and diverse attorneys. (2021)
---
Law360 - Best Law Firms for Female Attorneys
In its annual "Glass Ceiling Report," Law360 named Shook one of "The Best Law Firms for Female Attorneys," ranking the firm fourth among more than 300 firms nationwide with 300-599 attorneys. Shook also was named a "Ceiling Smasher" in recognition of the number of women at the firm who are equity partners; Shook was ranked seventh among surveyed firms with 300-599 attorneys. (2019)
---
The Legal 500 United States
The Legal 500 United States has again recognized Shook as one of the best litigation firms in the country, giving top marks to eDiscovery and product liability practices, including the firm's environmental litigation in a top tier of the annual rankings. In addition, four partners were recognized for exceptional performance in their practice areas. (2021)


---
Martindale-Hubbell
Dozens of Shook attorneys hold peer review ratings from Martindale-Hubbell, including 61 who are rated as AV Preeminent®. (2019)
---
Benchmark Litigation
Shook's Product Liability practice is ranked in Tier 1 of firms nationwide. (2022)
---
GlaxoSmithKline
Litigation attorneys at GlaxoSmithKline awarded Shook the pharmaceutical company's 2018 Inclusion and Diversity Award for the firm's commitment to diversity internally and externally, including developing diverse litigation teams to work with clients. (2018)
---
Association of Corporate Counsel (ACC) Corporate Counsel In-House Innovator Award
ACC honored the Manufacturers' Center for Legal Action's Manufacturers' Compliance Institute (MCI) with the award; Shook is one of the six law firm members of MCI, with Sidley Austin, Littler Mendelson, Squire Patton Boggs, Wiley Rein and Crowell & Moring. (2018)
---
The Best Lawyers in America Lawyers of the Year
Best Lawyers® selected 77 Shook attorneys for inclusion in its 2022 edition. "Lawyer of the Year" designation was given to Partners John Barkett (Environmental Law), Dave Erickson (Litigation – Environmental) and Sean Wajert (Mass Tort Litigation and Class Actions – Defendants). (2022)
---
Minority Corporate Counsel Association George B. Vashon Innovator Award
MCCA honored Shook with the Vashon Innovator Award, which recognizes law firms that lead the way in best practices to assist diverse attorneys in professional development. (2018)
---
Corporate INTL Magazine Global Award, Public Policy Liability Law Firm of the Year
The firm's Public Policy group, in Shook Washington, D.C., was the Editors' Choice Winner of the award. (2018)
---
Association of Fundraising Professionals "Business Philanthropist of the Year"
The AFP's Mid-America Chapter selected Shook after Legal Aid of Western Missouri nominated the firm for its mission of providing legal counsel in need. (2017)
---
The American Lawyer | Litigation Product Liability Finalist
Named a finalist for The American Lawyer's Product Liability Department of the Year award. Shook won the award in 2008 and 2012, and was a finalist in 2010. (2016)
---
Law360 Practice Group of the Year
Law360 named Shook one of the top firms in the country for "securing tremendous results in complicated litigation" in the Product Liability category. (2016)
The American Lawyer
Summer Associate, Mid-Level Associate Ratings
Nationwide, Shook was ranked in the top 40 best places to work nationwide by summer and mid-level associates. (2015)
---
Law360 Largest Product Liability Practice
Shook's Product Liability practice was ranked first among law firms with the most product liability partners worldwide. (2015)
---
The Coca-Cola Company
Shook is a three-time winner of The Coca-Cola Company's "Living the Values" award for demonstrating a strong commitment to diversity, receiving the award in 2008, 2013 and 2015. (2015)
---
ISO 27001 Certification
Shook
received
certification of its information security management system, providing clients with third-party validation that the firm's data security guidelines, policies and procedures meet international standards for best practices. (2014)